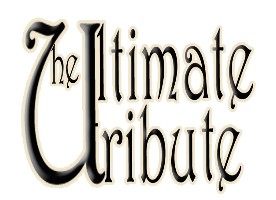 A Tribute To Amy Winehouse by Tania Alboni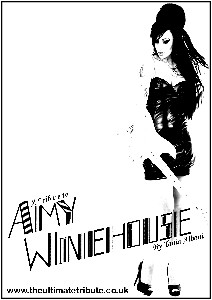 Click on the picture for full size image
In July 2007, Tania began her unique and authentic tribute to the multi-award winning vocalist Amy Winehouse, not only whipping up a frenzy in her home country (UK), but also taking the rest of the world by storm!
Tania's deep passion for this tribute stems from the fact she is impersonating one of her favourite singers of all time and it shows in each and every single jaw dropping performance, leaving audiences and professionals alike amazed. Such is the importance of the authenticity of Tania's work, she has, and still continues to put in vast amounts of work for her art. Not content with only perfecting that unique vocal style and sound that Amy has since become infamous for, she believes that every head tilt, skirt flick and even the hair twirling has to be spot on! Every detail has been studied with such accuracy that this isn't just a vocal performance. This has become the full Amy Winehouse experience!
You cannot get closer. And by raising such a high bar, this is what sets Tania apart from anyone else that's currently out there.
Since the sudden and tragic passing of Amy in July 2011, Tania is more passionate than ever about, not only keeping Amys music alive, but paying a special and touching tribute to her.
This heartfelt determination has seen Tania and her work go from strength to strength over the past 6 years, appearing as a lookalike and performer in countless TV shows and magazines internationally, including a Spanish national advertising campaign in 2009.
More recently this led to a highly successful full summer season starring in the highly acclaimed show "Stars In Concert" in 2013.
The show can be solo or with a 5 piece band to give that full live feel, . The show can also come as a trio or just acoustically for those more intemate events and weddings.
Audio Clips
Momentous Performances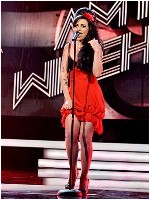 In September 2008 Tania was chosen as one of the 12 best impersonators in the world to appear on a LIVE German TV show 'LEBE DEINEN STAR'
Click here to see the show and photos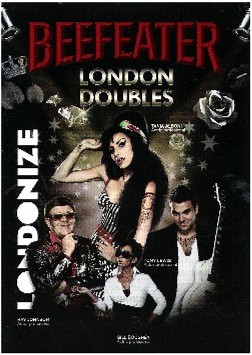 In the Summer of 2009 Tania was the face of Beefeaters Londonize Campaign alongside 3 other lookalikes. They toured 6 Cities over 3 months, they were on billboards all over Spain and created quite a stir when they were on tour.
Click here to see photos, newspaper cuttings and videos.




In June 2010 Tania was picked with 10 other lookalikes to appear at BB9's "Lisa & Marios" wedding, The wedding was in OK Magazine on the series "Wedding House" aired 26th October 2-010 Ch4
Click here to see the show


In March 2010 Tania was picked as one of the 12 best lookalike/soundalikes in the UK to star in a TV show for Ireland called Superstar Dingdong aired on TV3 in April 2010. (See Video below)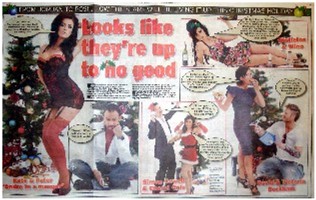 Tania appeared in the Daily Star alongside other lookalikes for a Christmas eve special in 2009.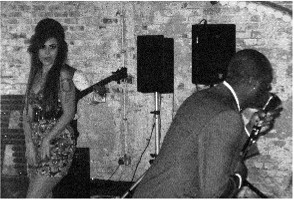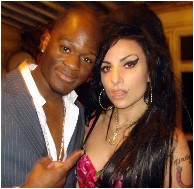 In December 2009 Tania was asked to perform a duet of Hey Little Rich Girl with Amys backing singer Zalon Thompson for a corporate function for samsung in the location Dragons Den is filmed in. Zalon said to Tania "Well, you fooled me, I just wanna grab you and say ahhh Amy" and he did

In April 2009 Tania performed on "Help I Need A Wedding Entertainer" where she got great compliments from the celebrity judges. (Video below)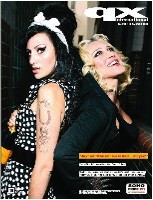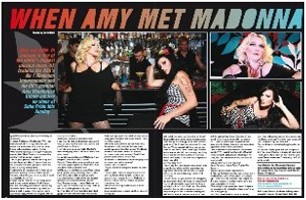 In August 2008 Tania was asked to do a front cover and double page spread for gay magazine QX with Melissa Totten to promote their upcoming performance at Soho Pride
Click here for the article and rest of shoot

On November 30, 2007. Tania was interviewed for The Times To go straight to the Times Online to see the story click here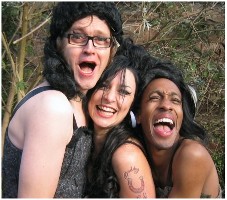 On November the 23rd 2007, Tania was asked to join in a tongue in cheek BBC programme called Fame Junkie
It was the day of Amys husband Blakes Trial, the BBC show thought that the press hounded Amy too much and on this stressful day they should leave her alone.
Tania was called in to divert the attention of the paparazzi .
Along with the 2 male presenters of the show and around 10 other girls all dressed in Amy style wigs, clothes and make up, they walked to the court creating alot of attention. After standing in the freezing cold for an hour, Amys car pulled up, Tania and Garren (the main presenter) ran all the way after the car to the front entrance, only to be told she had already gone in. They managed to talk with the driver of Amys car briefly and thought maybe she was still in the back hiding.
The story got on the news that evening and in a few magazines including Heat Magazine,
Click here to see the episode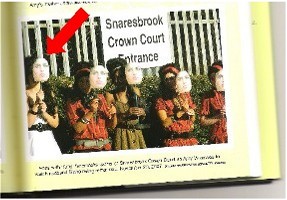 Tanias photo from the story above has been featured in the Amy Winehouse biography Amy Amy Amy.

Songs can include:
Rehab
You Know I'm No good
Back To Black
Valerie
Tears Dry On There Own
Me & Mr Jones
Some Unholy War
Just Friends
Monkey Man
Cupid
Hey Little Rich Girl
Addicted
He Can Only Hold Her
Love Is A Losing Game
I Heard Love Is Blind
Wake Up Alone
F*** Me Pumps
You're Wondering Now
To Know Him Is To Love Him
Take The Box
You Sent Me Flying
Stronger Than Me
Will You Still Love Me Tomorrow
The Girl From Ipanema
Our Day Will Come
Tears Dry (Lioness)
Review
by The Stage Magazine, March 2009
Tribute artistes Darren and Tania Alboni presented a segment of their two hour Ultimate Tribute Show, with a glimpse of their Amy Winehouse and Mick Hucknall impressions. If this rest of the show is up to this standard, then surely lucrative cruise ship work would seem to be assured. The vocal quality and the sincerity of the impressions will surely make this a superior addition to the tribute market. The sound-alike quality - in particular the Mick Hucknall - impression was quite stunningly accurate
To read other client feedback that has been sent in, please click here

Love Is A Losing Game (Acoustic) Stars In Concert Blackpool 2013

June 2012
Live Accoustic Jam. Wake Up Alone (Amy Trio)



January 2012
Live Accoustic Jam. Back to Black (Amy Trio)


April 2010
Tania on the TV3 show "Superstar Ding Dong"


April 2009
Tania singing on "HELP I NEED A WEDDING ENTERTAINER"

Below are some cutouts that you can make your own poster with,
Click on picture for a large version to appear in a pop up window.